ASTM B148 Chemical Composition, Mechanical Properties
ASTM B148 specifies the chemical composition and physical property of aluminum-bronze sand castings, ASTM B148 C95800, C95200, C95300, C95400, C95410, C95500, C95520, C95600, C95700, C95820, and C95900.
ASTM B148 specification establishes requirements for sand castings produced from copper-base alloys having the alloy numbers2, commercial designations, and nominal compositions shown in Table 1.
ASTM B148 Chemical Composition
Note:
2. The UNS system for copper and copper alloys (see Practice E527) is a simple expansion of the former standard designation system accomplished by the addition of a prefix "C" and a suffix "00." The suffix can be used to accommodate composition variations of the base alloy.
ASTM B148 Mechanical Properties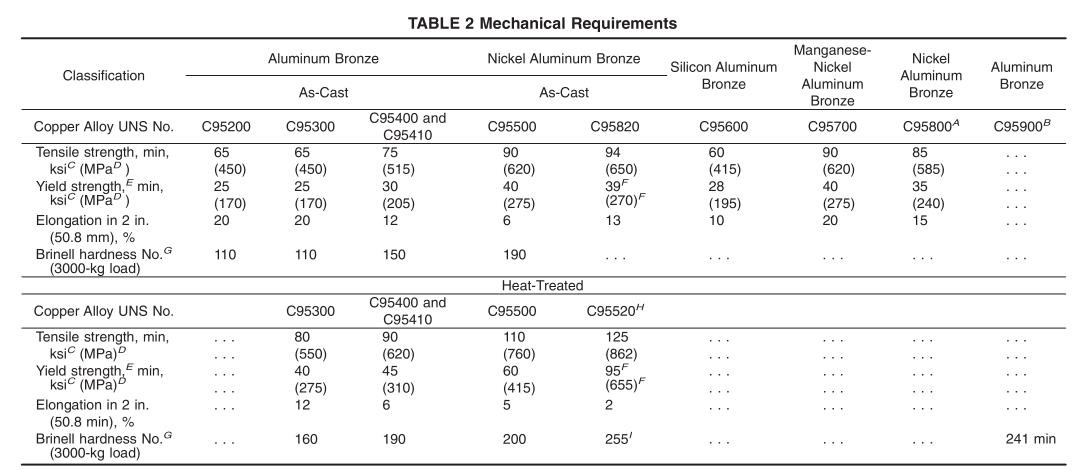 Note:
A. As cast or temper annealed.
B. Normally supplied annealed between 1100 and 1300 °F for 4 h followed by air cooling.
C. ksi = 1000 psi.
D. See Appendix X1.
E. Yield strength shall be determined as the stress producing an elongation under load of 0.5 %, that is, 0.01 in. (0.254 mm) in a gage length of 2 in. (50.8 mm).
F. Yield strength at 0.2 % offset, min, ksi C (MPa) D .
G. For information only.
H. Copper Alloy UNS No. C95520 is used in the heat-treated condition only.
I. Sand castings and sand cast test specimens shall be 25 HRC minimum.